Our commitment to exceptional food and service has earned us a reputation as one of Scotland's top wedding caterers.
We offer a full wedding service allowing you to completely relax and enjoy one of the best days of your life.
We have a range of fantastic ideas, menus and bars for you to choose from to help create your unique and memorable day.
Get in touch now and let us show you what we can offer.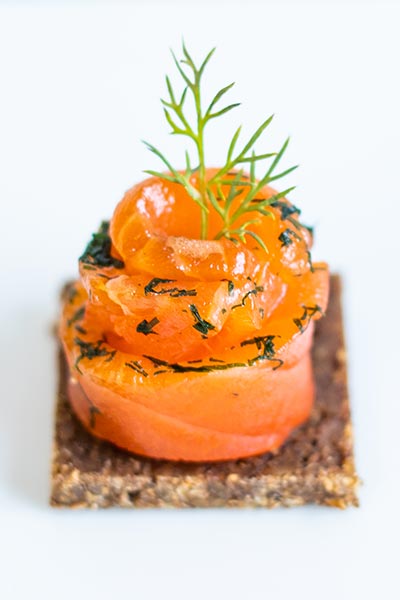 "The food was phenomenal... the compliments we have received saying it's the best meal people have had at a wedding... blown away, and that's all down to you guys so, thank you!"
Wedding Catering Sample Menus
(canapés)
Chilled pea & mint soup
Haggis strudel
Langoustine lollipop​s
​
Buffalo mozzarella, tomato
& basil with prosciutto
​
Roast haunch of scottish venison
Gratin dauphinoise
Braised green beans with garlic & tomato
​
Chocolate delice
​
(evening dining)
Scotch pies
Pots of fusili ragu
(canapés)
Scallops, black pudding & samphire
Cheese fondue
Peking duck pancakes
Venison carpaccio, rocket & parmesan
Braised beef shin & braising vegetables
Creamy mashed potato
Buttered carrots
Blackberry & apple crumble
​
(evening dining)
Cheese table
(canapés)
Pot sticker dumplings
Honey mustard cocktail sausages
Glazed cubes of pork belly
Potted shrimps, pickled fennel & sourdough
Roast free range chicken, gravy & tarragon mayonnaise
Italian roast potatoes & truffled cauliflower cheese
Sticky toffee pudding
Shots of espresso martini
(canapés)
Quails eggs & three salts
Tortilla de patatas
Mushroom & aubergine strudel
Padron peppers & rock salt
Vegan antipasti selection
Gardeners pie
Smokey tomato lentil filling
With crispy potato top
Sharing bowls of
Courgette, parmesan, rocket & olive oil
Green salad
Whole lemon meringue roulades
Let us help you to create the perfect wedding ambiance.
Private Events Catering Services
Waiting Staff
Drinks and Bar staff
Table Setting
Crockery, Cutlery, Napkins, Glassware
Equipment Hire
Table linen hire, Wooden bar hire, Fridge hire, Furniture hire
Bar Services
Cash / Account Bar, Drinks Packages, Wine Chilling
Planning Services
Wedding planning services, flower / marquee packages